The North Fork of the Gualala River has increased due to the recent rain event. River flows are now above the bypass requirement of 41 cubic feet per second (see here), which means that the district is back under Voluntary Water Conservation measures.
Customers were notified of the change by automated phone calls today.

The National Weather Service Forecast Office in Eureka has alerted Northern California residents of upcoming storms, which will further increase the river flows:
Batten down the hatches, stormy weather is coming! A couple of strong fronts will approach the NW California coast Wednesday night and again Friday night, and they will bring in heavy rain and strong wind gusts to the area for the second half of this week and into the weekend. Expect storm total rainfall of 5 to 10 inches across much of the area, with the highest amounts across the terrain of Del Norte and northern Humboldt counties and along the King Range of southwest Humboldt county. Storm drains should be cleared of debris before the onset of heavy rains. Wind gusts of 50 to 70 mph will be possible along exposed ridgetop locations on Thursday and Saturday, with Saturday being the windier of the two days. Residents with patio furniture exposed to southerly winds should secure loose items. In addition, surf heights will build to over 20 feet along the Northwest California coast by Thursday and persist through Sunday. For the latest weather information, please go to weather.gov/Eureka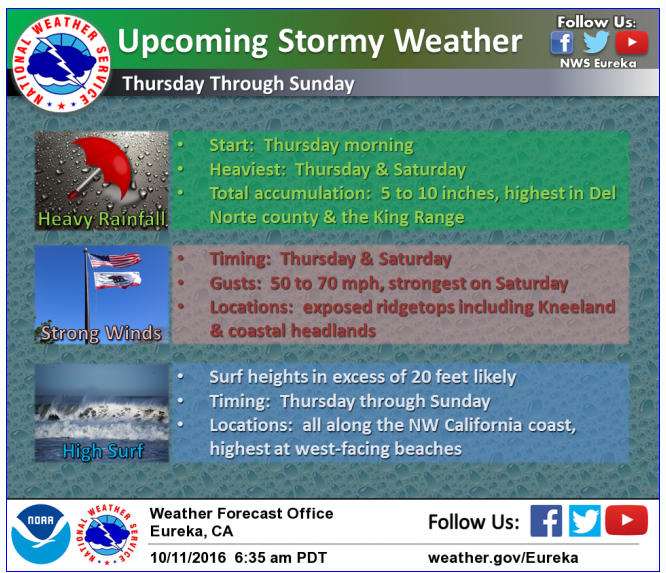 The rainy season is here!
Thanks for your conservation efforts, everyone!